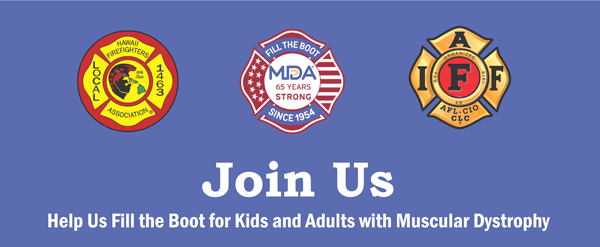 WE DO MORE THAN SAVE LIVES!
Since 1954, fire fighters have supported those challenged with neuromuscular diseases by helping the Muscular Dystrophy Association (MDA) work towards finding a cure. There have been great strides in the advancement against muscular diseases. Today, the MDA strives to provide ways for patients to Live Unlimited. Their new motto is: For Strength, Independence and Life.
Fire fighters and MDA Hawaii will once again secure storefronts and malls for HFFA and its members to conduct our Fill The Boot Fundraisers in a safety-conscious environment. We thank these businesses for their continued support over the years.
Be on the look out for  HFFA at our locations below and Follow the Boots on Instagram at
#filltheboot
---
KAUAI
All Locations – Saturday, August 31 and Sunday, September 1
10 am to 2 pm
Big Save Ele'ele
Big Save Waimea
Big Save Koloa
Kukui Grove (Times Lihue)
Walmart Lihue
Kauai Village (Safeway Kapaa)
Princeville Center (Foodland)
Waipouli Shopping Center (Foodland Kapaa)
Hokulei Village (Safeway Lihue)
7-Eleven (Lawai)
HAWAII
Saturday August 31 and Sunday September 1
10 am to 2 pm
Parker Ranch Center (8/31 – only)
Walmart Hilo (8/31& 9/1)
Walmart Kona (8/31 & 9/1)
Waimea Shopping Center (KTA) (8/31 – only)
OAHU
Saturday August 31
10 am to 2 pm
Safeway Kapahulu
Market City
Walmart Pearl City
Walmart Mililani
Sunday, September 1
10 am to 2 pm
Koko Marina
Safeway Kapahulu
Windward City Shopping Center
Walmart Pearl City
Walmart Mililani
MAUI
Friday September 6 and Saturday September 7
All Maui Locations: 0900-1700 both days
Lahaina Cannery Mall
Piilani Village Shopping Center (Safeway)
Safeway Wailuku
PENDING SITES
(Subject to change; please check back)
Safeway Kahului
Walmart Kahului
Pukalani Superette
Saturday, September 7 only
Lanai and Hana
Saturday September 7
Richards Market
Hasegawa General Store
MOLOKAI
Friday September 20
(coincides with Na Wahine O Ke Kai Kulaia)
Puko'o at Manae Goods and Grinds
Kaunakakai at Saturday Market area near Library