FIFTY-SIX DEDICATED YEARS OF SERVICE TO ITS MEMBERS
AND THE STATE OF HAWAII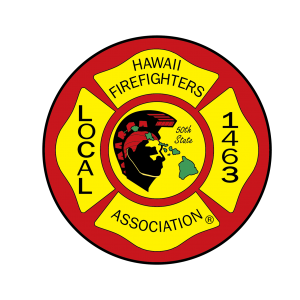 Hawaii Fire Fighters Association, HFFA Local 1463 was established in 1963 as an affiliate of the International Association of Fire Fighters (IAFF).  The union was created out of employee discontent in which fire fighters wanted their own representation by individuals who understood the unique concerns and working environment of professional fire fighting. HFFA initially represented the 350 members of the Honolulu Fire Department and later incorporated fire fighters on the neighboring counties of Kaua'i, Maui (which includes Moloka'i and Lana'i), and Hawai'i Island through a new collective bargaining law governing public sector employees known as the Hawaii Public Employee Relations Act of 1970 (HRS 377). In 1972, HFFA was selected as the exclusive bargaining representative for Hawai'i's county fire fighters and eventually, state fire fighters in 1974.
From the first contract granted in 1973 to the current contract, HFFA continues to fight to protect our BU-11 membership by addressing fire fighter work hours, conditions of employment, training and safety which, in turn, also protects the families of our fire fighters.
We are all in this together.
We are #HFFA1463Strong!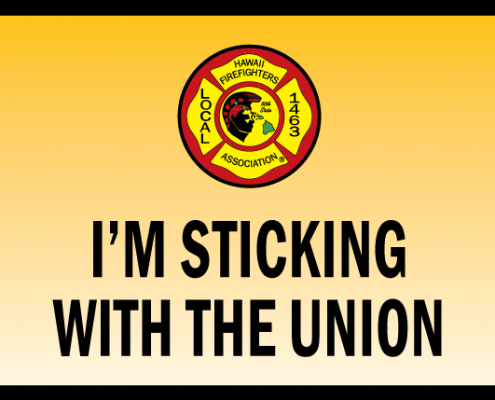 Schedule
December 2019
S
M
T
W
T
F
S
1
2
3
4
5
6
7
8
9
10
11
12
13
14
15
16
17
18
19
20
21
22
23
24
25
26
27
28
29
30
31
1st Platoon
2nd Platoon
3rd Platoon
CONTACT US
Mailing Address
1018 Palm Drive, Honolulu HI 96814
Telephone
808-949-1566 Oahu
800-310-1566 Toll Free
808-952-6003 Fax
Email Contact
Office Hours
8:00 a.m. – 4:30 p.m. Monday – Friday