Welcome to the HFFA Local 1463
Virtual Fill the Boot for MDA
For 66 years, when not fighting fires, members of the International Association of Fire Fighters have been fighting another ongoing threat — muscular dystrophy, a disease that includes more than 40 neuromuscular disorders. But the COVID-19 pandemic has dramatically affected fire fighters' efforts to Fill the Boot for MDA, while the critical need for fundraising to help find a cure and support those served by MDA remain. With traditional Fill the Boot drives on hiatus, we are counting on your support through our virtual Fill the Boot campaign during these challenging times.
During the Labor Day Weekend, we're normally in malls, storefronts and businesses all across the State of Hawaii that support our efforts to fundraise. We're not able to gather like we used to, but that shouldn't stop us from doing our part.
Please donate to our HFFA Local 1463 Fill the Boot Fundraiser to raise the funds necessary to keep MDA Care Centers running and fully operational during this difficult time and help fund programming for the rest of the year.
Mahalo nui from all of us at HFFA!

---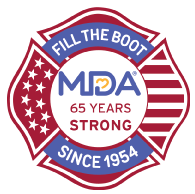 We Do More Than Save Lives!
Since 1954, fire fighters have supported those challenged with neuromuscular diseases by helping the Muscular Dystrophy Association (MDA) work towards finding a cure. There have been great strides in the advancement against muscular diseases. Today, the MDA strives to provide ways for patients to Live Unlimited. Their new motto is: For Strength, Independence and Life. Fire fighters and MDA Hawaii will once again secure storefronts and malls for HFFA and its members to conduct our Fill The Boot Fundraisers in a safety-conscious environment. We thank these businesses for their continued support over the years.
THANK YOU, HAWAII!