With the significant health concerns related to COVID-19 and all the restrictions across the U.S. and Canada, the IAFF Executive Board on May 14, 2020, approved a motion to conduct the 2020 Fallen Fire Fighter Memorial ceremony without attendees, broadcasting it as a respectful virtual ceremony on September 19, 2020. We will still be engraving members' names on our Wall of Honor this year and will note those etched on our Memorial during the virtual ceremony.
---
Our Fill the Boot has gone virtual!

---

We urge all residents and visitors to adhere to COVID-19 safety protocols to keep yourself, your family and our first responders healthy and ready to respond.
---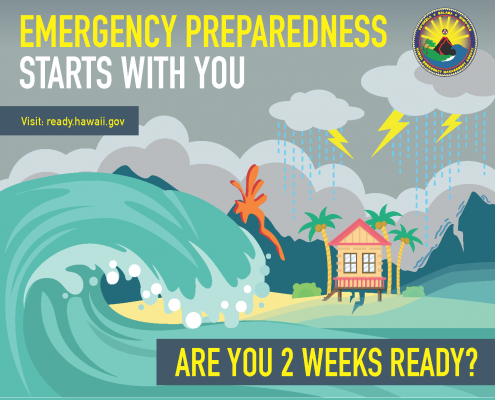 Are you 2 weeks ready?
The hurricane season for the Central Pacific, where Hawaii is located, is from June 1 to Nov. 30, with the peak usually occurring from August to September. Make sure you have at least 2 weeks of necessities in your emergency kit, including sanitation supplies to prevent possible COVID-19 transmission in evacuation shelters. Shelter in place, but if you live in a shoreline area or near high surf, EVACUATE WHEN ORDERED.
Visit the Hawaii Emergency Management Agency (HIEMA) for more information. Download the 2WeeksReady Brochure and have these items ready in case of emergency.
Additional resources can be found on the Red Cross Hawaii Disaster Preparedness page.
---