Coronavirus Guidance and Preparedness
With cases of the novel coronavirus (2019-n-CoV) now reported in the United States, individuals infected with this infectious disease may seek assistance from emergency response personnel as the coronavirus spreads.
The IAFF has developed a resource for responding to patients who may have been exposed to 2019-n-CoV. This resource provides basic information specifically about 2019-n-CoV, including signs and symptoms and standard precautions and protocols for response and exposure.
CORONAVIRUS RESOURCE
We encourage affiliates and their departments to review infectious exposure policies and procedures and assess their preparedness for responding to and caring for patients with possible symptoms.
This resource will be updated with additional information as it becomes available.
HFFA Turns 57!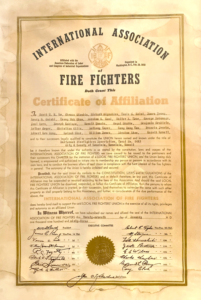 On January 27, 1963, a Charter of Affiliation from the International Association of Fire Fighters was granted to the newly-formed Uniformed Firefighters Association, Local No. 1463 of the Hawaiian Islands. The Charter recognized these 25 members as founders of  Local 1463. The union's name would be changed to the Hawaii Fire Fighters Association the following year.
David T.K. Ho
Henry Onishi
Paul Horn
Arthur Meyer
Albert Lew Wang
Thomas Blondin
Leong Wah Chun
Joseph Kahiapo
Christian Ellis
Roland Char
Richard Miyashiro
Abraham Kuni
Ronald Yamada
Anthony Lopez
William Jones
Louis Kaimi
Walter Love
Mogul Crabbe
Lung Bung Lum
Abraham Akau
James Young
George Nobunaga
Benjamin Mendiola
Francis Peneku
Harold Hewett
It would be 10 years of advocating for fire fighter rights and benefits before HFFA would see its first contract. Pride and Perseverance!
In Memoriam
Former HFFA Secretary-Treasurer Gordon Tom
MEMORIAL SERVICE FOR RETIRED HONOLULU FIRE CAPTAIN GORDON TOM – The late Captain Tom passed away on January 13, 2020.  He was appointed to the Honolulu Fire Department (HFD) on March 1, 1962, and served 31 years 8 months.  His last assignment was with Ladder 4, 2nd Platoon. Visitation will begin at 0815 hours on Thursday, February 6, 2020, at the St. Anthony of Padua Catholic Church, located at 148A Makawao Street in Kailua (map).  Service begins at 0930 hours.
Brother Gordon Tom served HFFA Local 1463 and its members as an Executive Board Member for 28 years. He continued to serve as Secretary-Treasurer an additional 6 years after his retirement from HFD in December 1993.
Oahu Board Member: 1972 to 1979
Oahu Recorder: 1980 to 1981
Oahu Chairman: 1982 to 1985
Secretary-Treasurer: 1986 to 1999
Secretary-Treasurer Emeritus: Position established on April 1, 1999 upon his retirement from HFFA Local 1463. Designation recognized in the HFFA Constitution and Bylaws.
We are saddened to learn of his passing and send our sincere condolences and sympathy for his family.
Kokua for Kurt and Kapela Wong
We wish Kurt and Kapela Wong a safe journey to Seattle for Kapela's treatment.
Read more
* * * * *
Shift Substitution for FF1 Kurt Wong
Shift Exchange for Brother Kurt Wong will allow him to be with Kapela during her treatment. Contact any Captain at Station 24 to sign up.
* * * * *
Kapela Wong GoFundMe
https://www.gofundme.com/f/b6pz5-prayers-for-pela
Any kokua is greatly appreciated.
Congratulations to these Kauai members
on their promotions!
(L-R): Firefighter III Jacob Minei, Firefighter III Mathew Ballard, Fire Captain William "Butch" Keahiolalo, Firefighter III Kalehiamaikalani "Lehia" Pomroy, and Fire Captain Kilipaki Vaughan
Kilipaki Vaughan and Butch Keahiolalo to the position of Fire Captain
Lehia Pomroy, Jacob Minei and Matt Ballard to the position of Fire Fighter III
HFFA congratulates these members on their recent promotion and wishes all more successes in their careers and future. Good job!
Message from IAFF 10th DVP Frank Lima
Sisters and Brothers of the IAFF 10th District,
Please take a moment to watch the IAFF 10th District 2019 Year in Review video. The video only captures a fraction of what your Locals, State Associations, the IAFF, and Team 10th have been able to accomplish this year. See action shots, handling business, camaraderie, mentoring and Team building in the 10th District. Every State is well represented, and no Locals get left behind.
With all that we have been able to accomplish, we want you to know that we understand there is a lot more work to do in 2020. Your 10th District Team will continue to keep our foot on the gas and ensure we fight hard and provide the best support and IAFF assistance for our members.
In Solidarity,
Vice President Lima and Team 10th Strong IAFF