A hui hou!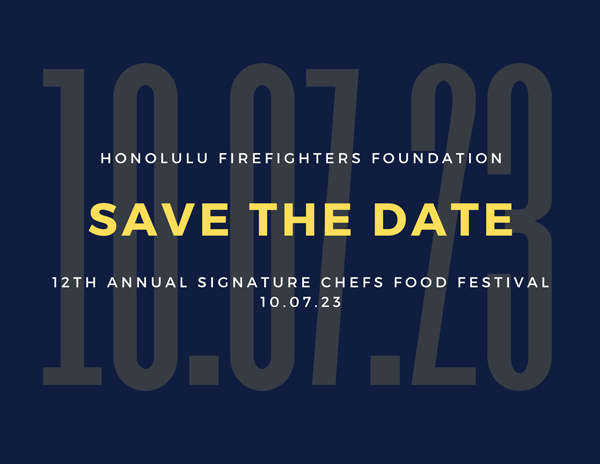 ---

11TH ANNUAL SIGNATURE CHEFS FOOD FESTIVAL
It's a Wrap!
Mahalo from all of us for your continued support through the years. We look forward to planning 2023 and returning to the home of the Honolulu Firefighters Foundation 12th Annual Signature Chefs Food Festival.

---


11th Annual Signature Chefs Food Festival
Saturday, October 8, 2022
5:30 to 9:00 PM
Honolulu Fire Department Headquarters & Museum
636 South Street, Honolulu

KHON 2 – Food 2Go, September 29, 2022
With special footage of Ocean to Table — the journey of fresh caught tako from Kaneohe Bay to the tasting plates of the event
Once again, foodies will flock to the Honolulu Firefighters Foundation 11th Annual Signature Chefs Food Festival at the historic grounds of the Honolulu Fire Department Headquarters and Museum this year. Nearly 500 attendees will have the opportunity to enjoy seven of Oahu's finest chefs' culinary talents and our own Honolulu Firefighters plus firefighter musicians, a silent auction and more!
Three Firefighter chefs teams are preparing to offer delectable samples inspired by our Aina and the people who share their love of food. Can't spill the beans yet, but it is already stirring some excitement.
The Signature Chefs Food Festival is HFF's biggest fundraising event and this year's Fire Prevention Week theme, Fire Won't Wait, Plan Your Escape! will be promoted by fire stations here on Oahu and throughout the State. This year's theme expresses the mission of the fire service to strive to educate everyone about the small but important actions they can and should take to keep themselves, their families and neighbors safe. On Oahu, it is the HFD's invitation to the community to spread the word and work together to make Honolulu a safer place from the risk of fire.
Proceeds from the Signature Chefs Food Festival have brought a variety of fire prevention and public safety awareness programs to the community, such as HFD's Smoke Alarms for Everyone (SAFE) Program. HFF provided the smoke detectors at no cost to Oahu's kupuna and were installed by the International Brotherhood of Electrical Workers (IBEW) 1186 free of charge in thousands of homes, while Honolulu firefighters provided worthwhile fire safety education to our kupuna ohana.
Another key initiative funded through your support is an annual endowment to the Straub Burn Center. With this endowment, Straub Medical Center's Burn Unit continues to invest in technology and training to bring state-of-the-art burn care to patients in Hawai'i and across the Pacific Rim. This highly specialized care is provided by a dedicated multidisciplinary team at Straub, who often spend months with patients. In addition to technology and training, gifts support education of community first responders in ABLS – advanced burn life support – skills.
Your kind support and donations also help the City offer free admission to the wonderful HFD Museum on South Street, and to support other worthwhile events such as giving proper recognition to our HFD fire recruits as they graduate and join the firefighters throughout our fire stations who protect our community 24/7.
We Mahalo our supporters who continue to kokua for the cause.
The HFF Board of Directors is an all-volunteer board and proceeds benefit the mission of the Foundation. Donations are tax deductible to the amount allowed by law. Federal Tax ID 94-3432887.
CONTACT
For more information, contact Lee-Ann Choy of Pacific Rim Concepts,
[email protected].
---
Check out the 2019 Signature Chef event at the StarAdvertiser Out and About photo gallery
Party Pics – Honolulu Magazine, September 12, 2015
Midweek – November 13, 2012