Kaua'i Fire Department holds blessing ceremony for new Engine 3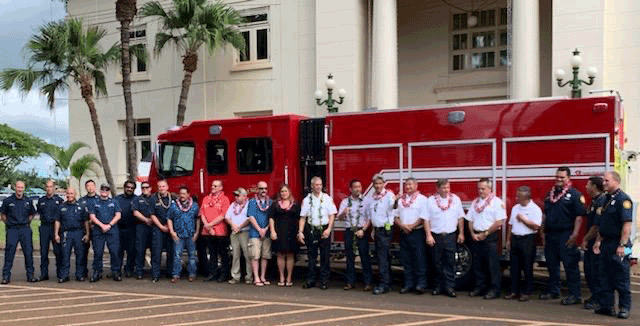 LĪHU'E – The Kaua'i Fire Department held a blessing ceremony on Monday fronting the Historic County Building in Līhu'e for its new Engine 3 fire apparatus.
"Mahalo to our entire team for their commitment to provide this needed apparatus that will provide coverage throughout Līhu'e and beyond," said Deputy Fire Chief Kilipaki Vaughan.
Engine 3 is a 2019 Rosenbauer Triple Combination Custom Chassis Pumper designed for the Līhu'e district, which covers the areas between Halfway Bridge and Kaua'i Beach Resort. Līhu'e's district also extends further out in both directions, responding to fires as far as Hanapēpē, Kōloa, and Kaiākea districts. The new engine replaces a 17-year-old Pierce engine. It is customized to suit Līhu'e's ever growing needs with additional storage space for equipment and personnel.
The purchase of Engine 3 was approximately $630,000.