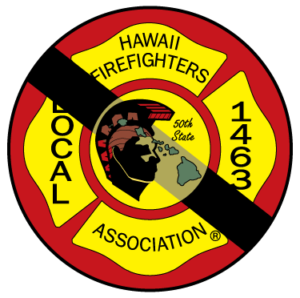 September 25, 2021
Condolences to the Lindsey Ohana
It is with a heavy heart that we share the sad news that Brother Lane Keoki Lindsey passed away today. Please pray for his Ohana and send them strength to uplift them up through this difficult time. Keoki was 49 years old and a father of 3 sons. He had 20 years of service. The entire HFFA Ohana sends our sincere condolences to his family, friends, and brothers and sisters of the Hawaii Fire Department.
---
August 31, 2021
Prayers for Brother Keoki Lindsey

Aloha Bobby,
Trust you are well.
My name is Keoni Lindsey and I am a retired Hawaii County Firefighter. My father, Gabriel Lindsey, was also a firefighter and served the Honolulu and Hawaii County Fire Departments for over 44 years. My father helped start the union along with my uncle Polo Simeona, Francis Kennedy and Black Perry. There were many others involved in the union but personally as a child growing up in Kailua and Waimanalo, I specifically remember the Kailua Oahu station because that's were my dad was stationed. Then my family moved to Waimea on the Big Island. Many a nights I slept with the firemen at the station while my dad was working. They use to take me everywhere. Buy me ice cream and made sure I did my homework. They told me one day you will be one of us. At age 23 after completing college in 1988, I became a Hawaii County Firefighter.
But my little brother Keoki was still hanging around fire stations with my dad and doing the exact same things that I did. And yes, in 2001 he became a firefighter.  He has served the county of Hawaii for 20+ years and helped countless numbers of people during his journey. His ability to talk to any stranger and make them feel welcomed and comfortable is a trait that few people possess. He is an amazing father of 3 boys that love their dad more then life itself. He does everything with his kids.
Two weeks ago Keoki got the COVID-19. He has been fighting for his life on the Big Island at North Hawaii Community Hospital but we are a rural hospital. I have been sleeping with his 2 older sons at the hospital parking lot cause they refuse to go home without their dad. This past Thursday night the doctor was skeptical that he would make it through the night and told my family to gather and wait for a phone call. He also told us to pray for him because that's all they and we can do. We prayed for my brother along with a few firemen and local friends as a family. The phone call never came that night.
We met with the doctor again Friday morning at 11am. He told us it's a miracle he is still here. He is a fighter. But the doctor told us he has tried everything the past week to get him to Oahu where they have what he needs and can't get at North Hawaii Community Hospital. There are literally hundreds of people waiting for beds and machines in tents. So again we prayed, that's all we had was faith. At 5pm Friday afternoon, 6 hours later, the doctor called us and said something happened and the doctors can't explain it but Keoki has been approved for transport and allocated a bed, room, ventilator, Hemo Dialysis machine, ECMO machine and will get everything he needs. The doctor said whoever you guys know, its working. Because this does not happen. It's a miracle.
So Keoki is now at Queens Hospital. The doctor called us and told us it's the worst COVID case he has seen. But he said Keoki is a fighter. They have and will give him everything he needs to battle this illness. He told us whatever you did to get him here is a miracle. Just keep doing that and stay strong and positive. The doctor reiterated the fact that Keoki is one of us, part of our brotherhood, a front line worker, essential service, a fireman.
So I ask you, as a leader of men, to please ask his Fire Department Brotherhood, to pray and send positive vibrations his way. Hawaii, Honolulu, Maui, Molokai and Kauai we are all in this together please help us help him and pray.
Thank you for your time and consideration. A Hui Hou……
Sincerely,
Keoni Lindsey           Gabriel Lindsey
(808) 960-5304         (808) 885-4788

PHOTOS: Keoki (20+ years) and our Papa Gabriel (44 plus years of service). Keoki never went anywhere without his family. If he wasn't at work he was with his boys – Paniau age 20, Kinohi 10th grade and Kinamai 5th grade.
---
Let's keep ourselves and our Ohana safe as we continue to do our jobs to respond and serve our communities. Mahalo!